- Sat Apr 12, 2008 6:57 am
#1870585
So very glad that you are all finding the guide helpful.
Thanks for all the kind words!
- Sat Apr 12, 2008 2:39 pm
#1877957
Mo wrote:Q&A



Reserved for future questions and answers.
how do we start a quest?
- Sat Apr 12, 2008 3:47 pm
#1879107
I have a question as well.

You said that if we're going to quest for a dream avatar to provide a picture. How do I do that, exactly? :?
Fide et Amour
By Faith and Love
- Fri Apr 18, 2008 4:33 pm
#1970171
Mysti and Pookie : Thank you! I am glad that it is helpful! Good luck with your future quests.

Shelb : Please read the posts on the first page of the thread, specifically the second and third posts, those will tell you how to start a quest.

Moonlit : To find out how to make a dream avatar and post the picture go
HERE.
- Wed Apr 23, 2008 6:47 pm
#2035114
Thanks mo, I know this sticky thread will likely help many people to set up their quests. Oh, by the way, I love your avvi. How long did it take you?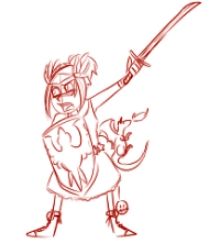 Art by PhoenixRose
- Wed Apr 23, 2008 8:06 pm
#2036157
Thank you very much for posting this. It helped me quite a lot.
:D
[br]
Click here to feed me!
[br]
Get your own at Pokeplushies!
- Sat May 03, 2008 4:37 am
#2129511
Hmm... I think I'll be using this! Looks pretty decent and helpful!



Good Luck with it all, I hope it goes well!
L=

EDWARD CULLEN SMILEY

L=