[url=
http://www.chickensmoothie.com/
]Adopt virtual pets at Chicken Smoothie![/url
Pet's name: Moonshine
(yes this is what moonshine looks like!! xD)
the blue pup is her apprentice and you shall learn about the littlest one later!!
- Sat Jan 19, 2013 11:56 pm
#12757673
thank you so much for the guide!
I'm on the making of my very own

thanks once again!
- Sun Feb 03, 2013 11:57 pm
#12767779

Thanks for this! (just like everyone else)

It's helped me tweak my dream avatar to something I am now satisfied with.
Woop woop!


I'm not going to be able to post/be active as much here on Roli starting September due to school! (Dang...) But I'll try my best! So, until then, I will try to be as active as possible!

- Sun Feb 16, 2014 4:40 am
#12974511
Sooo... I finally updated this. Only took me like 5 years. Oops. x: It'll probably have to be updated again in the near future but... for now, I tried! INSOMNIA-INDUCED UPDATES TO OLD AS HECK THINGS! WOO!
- Thu Feb 20, 2014 3:41 am
#12977758
I don't know if anyone mentioned it before, but a method similar to the print-screen and paste into Paint for Mac users is as follows:
- After making the avatar, hit Command (apple) + shift + 3 to take a screenshot of the entire screen.
- Open up your folder for screenshots (by default all screenshots are saved to the Desktop but
here is a tutorial
for OS X users on how to change the location to a new folder) and choose the screenshot you just took. Open it in Preview or GIMP if you have it and crop as necessary. This is different from the method you posted to save just the avatar image in case someone also wants to have a list of the items in the image as well, though it means the image will be bigger.
- Upload it to an image hosting site (like Photobucket) as usual and voila!
Dream avatar: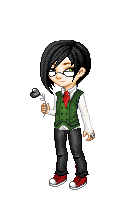 - Wed Mar 12, 2014 10:53 pm
#12991982
is there a thread i can see all the poses of the items that are not in the dream creator??
I hate this site Im tired of your scams & abuse. Fuck you & your harassment. Fuck you you fucking site. I Quit!
¯\_(ツ)_/¯
post more or I'll ban you~!