- Thu Apr 11, 2019 4:34 pm
#13421852
hi! unfortunately you'll find it very quiet round. the site will actually be closing very soon due to lack of activity and staff availability. it's had a good long run though and it's my favorite avi site so far. i've been here since 2008.

welcome though. i recommend hanging around. it's unlikely that the site will remain open past july but you will still have some time to do some things and there are still some active users. i'min the process of saving my threads. i had a lot of fun over the years and i even met my now best friend and her husband through this site.
- Fri Apr 12, 2019 9:57 am
#13421858
Oh no! I just came back because I wanted to check it out.... sad.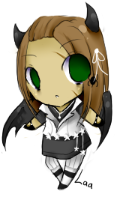 - Sun Apr 21, 2019 7:53 am
#13421877
Oh, no, I'm so sorry this place will be closing. I can see why, but it still makes me sad. Losing another avatar site hurts.
I guess I should go through and see if there are any posts in anything I want to save. I wish I'd come back sooner!
(On hiatus due to school D:)
My store of cheap stuffs:
[/img][/url]